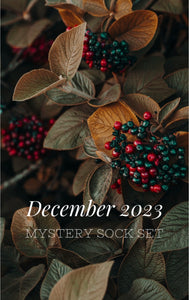 December Mystery Sock Set!  PRE-ORDER
This club is for those of us who like yarn surprises!
This is a pre-order.  Your sock set will ship in December.
Please don't order your mystery set with other yarn unless you don't mind your whole order shipping when the mystery yarn is finished.
You will receive a sock set based on this gorgeous cozy winter botanical photo.  I'm in love with these colors!!
Part of the fun of mystery sock sets is that you won't know what yarn base each month's set will be dyed on.  This year I'll be dyeing up mystery sock sets on Classic Sock, Tweed Sock, Sparkle Sock, Hearty BFL Sock, Soft Merino 3 ply Sock, and Yak Sock.  I hope you love your sock surprises!